The last paper I ever wrote in college was for my Power and Propaganda course, and addressed the propaganda being hurled against Obama. One thing I addressed was that many of the criticisms of him were blatant lies. It'd be like if I started posting here that John McCain said, "Thank God for the Nazis!" and President Bush met with McCain and used "the N-word" to refer to Obama. Total fabrications as part of a smear campaign.
The problem is that they work. I'm going from memory, but if memory serves me correctly, 13% of people in a recent poll said that they thought Obama was a Muslim. Soon it was being reported that he was sworn in on the Qu'ran, too. Of course, the Muslim rumors would soon be contradicted by trying to label him racist because his pastor said some crazy things, and the fact that he was sworn in on the Qu'ran would be refuted by photographs showing him with his hand on the Bible when being sworn in.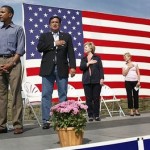 There was also the big row over the photograph of him "refusing to say the pledge," with some versions of the chain letter or website alleging that he refuses to do it for religion reasons; one even said that he didn't know the words. In actuality, Obama was singing the national anthem, as a video of the event shows.
There's another one about him hiding his birth certificate because he's not actually a citizen. (If you want to get technical, John McCain is the one who wasn't born in the US… Though it'd be asinine to argue that he's not a US citizen because he was born on a US military base.)
The Obama campaign has finally launched Fight the Smears, a page refuting the utter falsehoods against him. The latest one seems to be alleging a videotape of Michelle Obama using the word "whitey." Frankly, I could see this being done in a non-racist manner, but it's a moot point, because none of the <sarcasm>reputable</sarcasm> sources claiming to have seen / possessing the tape have released it, and because one person has some pointed allegations of exactly where the tape was filmed, most of which seem fabricated.
It's totally cool with me if you'd prefer to vote for McCain. (Well, I'd still disagree, but I'd at least respect that you had a rational difference of opinion.) Obama isn't a Muslim, terrorist, or unpatriotic. John McCain isn't a rapist and he doesn't eat babies for breakfast. In a time when the truth is so sorely missing, can we please try to stick to reality this election?