Kyle's recent post with a tag cloud for his site got me inspired.
By the way, having run the site for years, I'm a bit embarassed to admit that I had no clue where the RSS feeds were. (I should really create an aggregated one for all users?) http://blogs.n1zyy.com/USER/feed/ is the answer; obviously, substitute USER for the username. (Oh, and /feed/atom seems to be required to work with the tag cloud generator he linked to.)
Another comment: playing with the generator reveals that I'm unnaturally obsessed with fonts.
I'm slightly embarassed at the most-common words. "Actually" and "though" seem to take first palce. And then it's words like, "pretty," "really," and "like." I should probably cut all of these words from my vocabulary.
I do contend that it's not quite fair, since it's only looking at a handful of posts. Without further ado: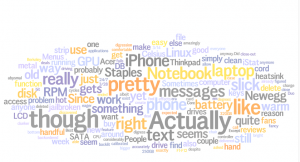 Related posts: